"The level of quality is excellent! The teachers have genuine concern for our daughter and provide a wonderful curriculum."
– Brandon Feist, General Fire Manager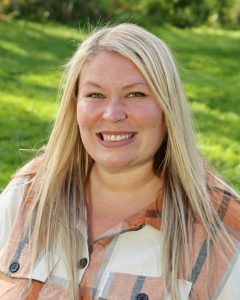 Teacher/Child Ratio: 1:4
Maximum Class Size: 7
Ages of Children: 3-12 months
Personal Background:
I am working to complete courses to obtain my BA in Elementary Education with a minor in Special Education. Before coming to North Wall 4 years ago, I worked for 6 years in early childhood settings and served as a paraeducator in Spokane Public Schools. I really enjoy developing relationships with North Wall's children and staff. My husband, Peter, and I have two sons, Kasen and Jaxtyn who attend North Wall. My stepdaughter, Kyleigh, will be joining us here in the fall.
Philosophy of Teaching:
I believe each child is uniquely created by a loving God. I will love each child and support them in their growth and personality. I will help them grow in their physical, emotional, social, intellectual, and spiritual development. Our classroom will be full of learning, love, and joy.
Goals for the Class:
To work closely with each family's culture to help foster each child's development
To provide a safe, warm, and fun learning environment
To show each child that they are loved, respected, and an important part of our classroom
Class Schedule:
The Infant schedule is flexible and based on the individual child's rhythms and routines.
8:00 — Arrival time and breakfast
8:30 — Free exploration
9:00 — LAP TIME & LEARNING CENTERS (Language/Literacy, Cognitive, Creative Expression, Social/Emotional and Physical)
10:30 — OUTDOOR TIME
11:00 — Grace and lunch
12:30 — Nap time
2:30 — OUTDOOR TIME
3:00 — LAP TIME & LEARNING CENTERS (Language/Literacy, Cognitive, Creative Expression, Social/Emotional and Physical)
4:00 — Free exploration
5:00 — Close of school