"Thank you for such an excellent place to learn, grow, and mature for our children! The staff at this school never fail to make the children feel important and special ."
– Karina & Hawke Robinson, Programmer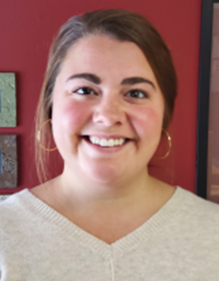 Teacher/Child Ratio: 1:6
Maximum Class Size: 12
Ages of Children: 1-2 years
Personal Background:
I grew up in a huge family, and I value my family relationships dearly. I have also discovered that teaching comes naturally to me, and I love being able to build relationships with my students, whoever they may be. After graduating and teaching first grade for a year, I decided to follow a life long dream and teach abroad. I wanted to experience new culture, language, religion, and customs, so I chose to work in Thailand, where I taught for 8 months. This experience helped me become more aware of diversities in culture and grow in my love for teaching.
Philosophy of Teaching:
I love to learn, and I believe that there is always opportunity within reach to learn something new. I believe I can share that approach to life with my students. I also believe that it is our children who often teach us valuable lessons on love, kindness, and curiosity, and I want to create a loving, relationship-centered classroom environment that fosters teaching and learning.
Goals for the Class:
foster emotional intelligence and independence so that children develop an "I Can" confidence in all daily activities.
inspire a love for lifetime learning and exploration by creating engaging centers that focus on physical, cognitive, language, creative, and social/emotional development.
encourage continuous communication between parents and teachers to create consistency for each child.
Class Schedule:
8:00 Arrival, snack, toileting, free choice exploration
9:00 Circle time
9:30 Outside exploration
10:15 Morning centers (cognitive, creative expression, physical, social/emotional, sensory), toileting
11:15 Music and movement
11:30 Grace and lunch
12:15 Reading time, toileting
12:30 Rest time
2:30 Waking up, snack, toileting
3:15 Afternoon centers outside
4:00 Free choice exploration, toileting
4:30 Snack, pick up
5:00 Close of school