"Words can never express how blessed we feel we are to have our daughter at North Wall. We are continually amazed with how much she develops and learns at your school."
– Marsha Hamm, Professor at Gonzaga University
Teacher/Child Ratio: 1:10
Maximum Class Size: 20
Ages of Children: 3 – 5 years
Personal Background:
I have had the honor of being a teacher for 14 years. I am a wife to my loving husband, Tim, and a mother to three beautiful daughters, Cathleen, Mary, and Rebecca. I enjoy hanging out and spending time with my extended family and outdoor activities at the lake cabin.
Personal Teaching Philosophy:
My philosophy of teaching is to respect and show compassion to all. To teach is to guide and coach these amazing children to think with their heart, mind, and soul. I want the students to enjoy learning, be problem solvers, and helpful to others.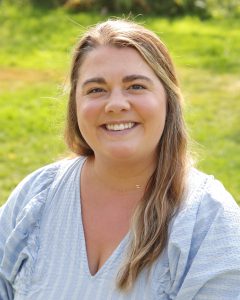 Personal Background:
I was the Lead Toddler Teacher this past year until my husband, Josh, and I welcomed our baby girl Hazel. I come from a large family that inspires my passion for teaching. I love spending time outdoors. camping and kayaking.
Personal Teaching Philosophy:
I want to encourage students to learn from their mistakes and find ways to problem solve. By putting love behind every interaction, I can foster a creative outlook on life and learning by creating curious and creative opportunities to expand on their learning.
Goals for the Class:
To have a safe, secure, stimulating environment in which children will flourish
To develop self-awareness and empathy
To learn to work together as a community and help each other learn
To engage in a developmentally appropriate, stimulating curriculum
To have each child's individuality celebrated
To be supported by unconditional love and encouragement
Class Schedule:
8:55 to 9:15 – Arrival and Hand Washing
9:15 to 9:45 – Circle Time
9:45 to 10:15 – PE or Recess
10:15 to 11:00 – Developmental Learning Centers (language, math, art, science, social studies, geography)
11:00 to 11:15 – Show and Share
11:15 to 11:30 – Snack
11:30 to 11:45 – Closing Circle and Dismissal