"The teachers have a beautiful way of recognizing and honoring the unique beauty of God's creation in each child. We appreciate the way they help our child to learn to read, write and think!" –Mac Ryerse, Corporate Secretary for Potlach Corporation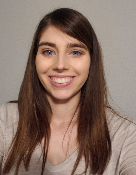 Teacher/child ratio 1:16
Maximum class size 16
Ages of children 4.5 – 7 years
Personal Background
I am new to North Wall this year and am excited to grow in this environment. I have been a Paraeducator in the Spokane School District for the last 4 years. When I am not spending my time with my students, I enjoy playing boardgames, baking, quilting, and gardening. My husband and I enjoy hiking together. We are very excited to welcome our first child together in January!
Philosophy of Teaching
I look forward to creating an environment and providing educational experiences where students are excited to come to school, have a passion to learn and feel free to take risks. I want to promote lifelong learning and create lifelong friendships.
Goals for the Class
Increase students' curiosity
Develop students independence
Nurture students' self-awareness, self-control, and self discipline
Embed within the classroom dynamics a love and respect for all cultures, races, and individuals in the classroom and beyond
Foster project-based learning that provides standard-based achievement data for each child
Maintain a positive learning experience for all students